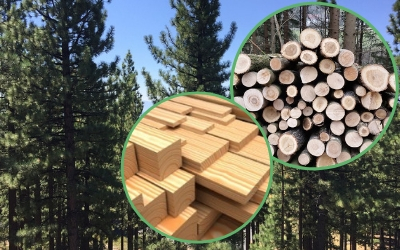 Pine is a type of softwood and unlike hardwoods, pine trees grow all around the world. Tough this is considered to be a softwood, it has a great deal of stiffness and resistance to shock. These property of pine wood make is a favourable option for furniture making. 
Unlike hardwoods, pine is easier to work with due to its soft nature. There are many pros of pine wood which make it perfect for contemporary furniture making and this the reason behind the prevalence of pine furniture.
Traditionally, pine was used for colonial, rustic and craftsman style pieces but nowadays the scenario has changed and you can see pine is being used to make a lot of different styles of furniture. If you walk into a furniture store, you would see
 

pine beds
, pine chairs and tables, pine wardrobes and what not!
Pine is relatively light in colour and more often than not, it comes with a creamy white look. Due to the light hue of pine furniture, it is easy to stain furniture pieces made out of pine. Pine also has a prominent grain with knots darker than the wood itself, which gives it a distinct look.
How good is pine for furniture?
While pine is very different from other types of woods, it is a very good choice for furniture, according to experts. Though pine wood does not last for a long time, still it is strong, shock-resistant and perfectly suitable material for furniture making. If you are into rustic or country style of furniture, pine is the best possible option for you. 
If you are intrigued by antique pieces, you will love to see that over time, pine gains a patina that gives it an antique-like quality. 
What is up with the price? 
Pine is often much cheaper than other types of wood. As pine trees grow faster than other trees, pine wood comes cheaper than other woods. Pine trees require less amount of care and have a shorter time to market, which enables growers to sell the wood at a lower price. If you are focused primarily on price, pine is an attractive option.
These are some basic information about pine wood and more information can be found with professionals working with pine wood on a daily basis. 
How did you like this post? If you have found this interesting and useful make sure to come back in this
 

blog
space for more.