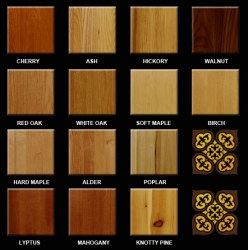 One of the most commonly used furniture making materials in the world is wood. Almost all kinds of wood are used to build furniture. However, each type has its own unique characteristics, which in turn add various forms of warmth, beauty and emphasis.
Before you plan to buy a custom made furniture in Bondi Junction, you should understand the various types of woods available and which one is perfect for your furniture. However, at first you must know about the two basic forms of woods.
Hardwood and Softwood
Hardwood is formed from trees with broader leaves (deciduous trees) while softwood is formed from trees which have thorns rather than leaves (coniferous trees). Deciduous trees grow slower than coniferous trees. The slow growth is the reason why hardwood appears denser. Furniture which are made from hardwood last for a long period of time. However, some hardwoods are softer. For example: basswood and poplar.
As hardwoods are denser, so they appear dark, while softwoods are lighter in colour. Both of them are very popularly used for making furniture, but the former is costlier than the latter.
Common types of wood
Beech – Beech woods are strong, heavy and hard but are under the category of softwoods. Their texture appears even and has a tight grain. They are lighter in colour and have the ability to resist shock. Beech wood is a common material for making furniture and provides a warm feeling to the room. It provides a stunning look if polished.
Mahogany – The colour of mahogany ranges from brown to deep reddish brown. The tone actually depends upon the age of the wood. The more the age, the darker the colour is. Mahogany is a hardwood which is quite expensive. Very few people can afford furniture made out of it. However, lighter coloured mahogany is available today at affordable rates and is very popular. It is known for its versatility and extensively used on veneers.
Oak – Oak is one of the most popular forms of hardwood. It is quite heavy and is known for its hard wearing ability. The grain markings on the wood look beautiful as they are open styled. Oak woods are available in two shades. The first one is the white oak which is grey or brown in colour. The second is the red oak which has a similar shade, but with a reddish tint.
Wooden furniture add a royal look to any room, so you are making a wise choice if you're planning to buy some.
To know more about different types of custom wooden furniture, stay connected to our blog space.